What would you like for your birthday?
It's high season for birthdays among my friends.  Seems like at least one of us has a birthday every week.  Including me.  Mine is coming September 29.
And so we plan birthday parties, trips,  fetes, and all kinds of fun.
But for me,  the most I can say is I thank god for my friends and my good health.  That's all I want for my birthday.  More of the same, if you please.  I'll be 80 this year and to have arrived at this vaunted age relatively unscathed I believe has most to do with good genes,  good luck, and those good good friends.
If I could have one special thing for this special birthday,  here is what it would be, and I will probably make it myself.  ha: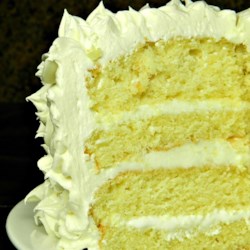 Happy Birthday Cake
1 cup butter, room temperature
2 cups white sugar
1 teaspoon vanilla extract
4 eggs, separated, room temperature
3 teaspoons baking powder
3 cups all-purpose flour
1 cup whole milk, room temperature
1 pinch salt
Directions
Preheat oven to 350 degrees F (175 degrees C). Grease and flour one 9×13 inch pan or three 8- or 9-inch round layer cake pans.
Cream the butter and sugar together until smooth and fluffy, about 5 minutes. Add the egg yolks one at a time, beating after each one. Mix in the vanilla extract.
Sift together the baking powder, flour, and salt. Add the flour mixture to the creamed mixture in three batches, alternating with the milk. Blend after each addition. Scrape down the sides and bottom of the bowl and beat an additional minute.
In a separate bowl, beat the egg whites with a dash of salt until stiff peaks form. Fold one third of the egg whites into the cake batter to lighten it; gently fold in the remaining egg whites. Pour batter into prepared pan(s).
Bake in preheated oven until cake springs back when touched lightly with a fingertip and a tester inserted in the center comes out clean. Cake layers may be done baking after 25 minutes; a 9×13-inch cake may take 35 minutes. Cool on wire rack.
Cool layers, then place them on a cake stand, with frosting between and on top of the layers.  Happy birthday
Frosting: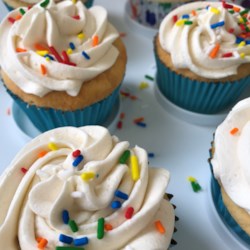 Quick Buttercream Icing
1/2 cup unsalted butter, softened
1 1/2 teaspoons vanilla extract
2 cups confectioners' sugar, sifte
2 tablespoons whole milk
3 drops food coloring, or as needed (optional)
Directions
Cream room temperature butter with a hand mixer, the paddle attachment of a stand mixer, or a wooden spoon until smooth and fluffy. Gradually beat in confectioners' sugar until fully incorporated. Beat in vanilla extract.
Pour in milk and beat for an additional 3-4 minutes. Add food coloring, if using, and beat for thirty seconds until smooth or until desired color is reached.
Pin It