Punch Up Thanksgiving with a Cranberry Salsa to Start: Pow!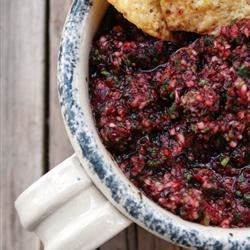 Cranberry Salsa
"Tangy and sweet with a bit of a bite. Quick and easy, and always requested at gatherings."
1 (12 ounce) bag cranberries, fresh or frozen
1 bunch cilantro, chopped
1 bunch green onions, cut into 3 inch lengths
1 jalapeno pepper, seeded and minced
2 limes, juiced
3/4 cup white sugar
1 pinch salt
chips for dipping
Combine cranberries, cilantro, green onions, jalapeno pepper, lime juice, sugar, and salt in the bowl of a food processor fitted with a medium blade. Chop to medium consistency. Refrigerate if not using immediately. Serve at room temperature. Add chips to dip.