Everything Old is New Again
Especially when you are stuck in the house for more than a month with nothing to look forward to but more of the same.
It's seems so unlikely, that I, who love to cook for people, would be stuck in my house all alone,  under house arrest along with my three dogs because of the Corona Virus.  But there you have it.  And I am not one to thrash against rules.  I understand there are people who are protesting and in some places openly violating the proscription.  OK, suckers.  Tell me where to send the condolence notes after your death.
Because to try to tilt at the windmill known as Corona is utter ignorance.  Just figure out a way to live with it and be damn glad you have a chance to live.  As for me  I miss my friends terribly – but I can talk to them on the phone.  I miss my friends terribly,  but I'd miss them more if they – or I – were dead.
And now that I only have myself and the dogs to cook for, I am returning to some old favorites because I can eat them over and over.  The dogs lick their lips a lot because the key to this recipe is Rotel tomatoes, but I figure its good for them to increase their culinary repertoire.
So here goes:  An oldy but a goody.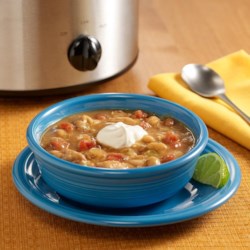 Slow Cooker White Chicken Chili from RO*TEL
"A slow cooker recipe for white chicken chili assembled quickly with chicken thighs, canned beans and zesty tomatoes."
Ingredients
PAM(R) Original No-Stick Cooking Spray
2 (15 ounce) cans Great Northern beans, undrained
1 pound boneless skinless chicken thighs
1 (10 ounce) can Ro*Tel(R) Original Diced Tomatoes & Green Chilies, undrained
1 cup reduced sodium chicken broth
3/4 cup chopped yellow onion
1 1/2 teaspoons ground cumin
1 teaspoon dried oregano leaves
Directions
Spray inside of 4-quart slow cooker with cooking spray. Place 1 can of beans in slow cooker; mash with potato masher or spoon until smooth. Add second can of beans and all remaining ingredients to slow cooker; stir to combine.
Cover; cook on LOW 8 hours or on HIGH 4 hours. Carefully separate chicken into bite-size pieces.
ALL RIGHTS RESERVED.  used with permission © 2020 Allrecipes.com